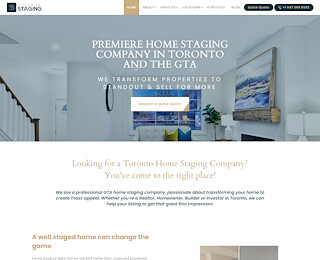 Suppose you're thinking about marketing your house and desire to make the best first impression on your potential buyers immediately. Home Staging is the perfect option for you. But before you opt for these services, there must have been plenty of questions in your mind that you are probably hesitant to ask. Don't worry, here are the answers to all your queries about our Toronto's Home Staging Services.
Q. What is Home Staging?
Home staging is a proven technique that is much beyond just furnishing the house. It helps eliminate all the possible distractions in your house and enhances its best selling features, which ultimately maximizes the property's potential in the eyes of a buyer. In simple words, it is the process of reorganizing the space through furniture and accessories.
Q. What are the Benefits of home and condo staging services?
Staged houses and condos sell faster
Staging helps in eliminating all the flaws of the house
Staged house's owners make more money
Staging makes the house and condos picture perfect
Staged houses help in connecting with the buyer on an emotional level
Maximize the chances of personal visits from buyers
Q. Should I stage my house before listing?
Yes, if you want to capture the buyers' attention immediately, then staging is the right choice. It makes your property look magnificent in the pictures, which eventually increases the likelihood of buyers wanting to visit the house in person.
Q. Does staging a condo and home effective?
According to recent statistics, staged houses and condos sell around 86% faster than the non-staged ones. Also, since most buyers look for ready to move houses; therefore staged properties become beneficial for buyers who visualize themselves living there.
Q. Why should I go for Staging Consultation?
A professional Home Stager not only gives you an unbiased opinion regarding your house but also has in-depth knowledge of what the buyer wants. Be it your fireplace, shelves, or windows; they focus on every single detail to create a pleasing yet cohesive experience for the viewer.
Q. Do I have to implement all the recommendations provided by the consultant?
No, there are chances that you may find some of the recommendations costly or time-consuming. Once the home stager visits your house or condo, our team member will provide you with a list of recommendations. After that, it's up to you whether you would like to implement those changes or not.
Q. What is the home and condo staging cost in Toronto?
The cost mostly depends upon how much or how little makeover your property requires to look it's best. It is better to book a staging consultation form a home staging company to learn more about the services and their pricing.
Q. How do I choose a home stager in Toronto ON?
Since Toronto has many home stager professionals, so first do your research through the internet. Visit the website of the most promising one and go through their portfolio and reviews. Most home stagers provide similar pricing, so don't make up your mind solely on pricing. However, if you have landed on this website, then the chances are you have already found the top of line Home Stager Professional, Style Bite.
To learn more about our home staging, feel free to contact Style Bite Home Staging for a no-cost, no-obligation consultation: +1 647 960 8592